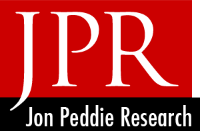 JPR TAKES ProVDI™ FOR A TEST DRIVE
Can a Virtual Workstation truly provide an experience comparable to a traditional deskside machine?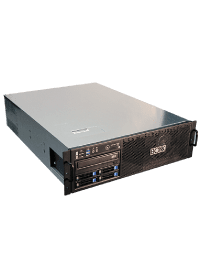 ProVDI™ 8401R-V
---
BOXX ProVDI™ solutions offer a unique scale-out approach to VDI which are engineering and optimized to maximize 3D productivity.
---
---
Typically ships in 13 - 15 business days. Please refer to the Ship Date on the emailed receipt upon order completion.
---
Basic Configuration Specs
10-core Intel® Core™ i7 processor OVERCLOCKED to 4.2GHz
128GB DDR4-2400 memory
1 x NVIDIA® Quadro™ M2000 graphics
240GB SATA 6GB/s SSD
Microsoft® Windows™ 10
VDI FOR POWER USERS
Virtual Desktop Infrastructure is a technology that enables an organization to host many users on a single physical server. While this is a viable approach for the majority of your enterprise, special consideration and configurations need to be considered for your power users.

ProVDI™ is a philosophy towards VDI which focuses on optimized solutions that preserve critical application performance for users of graphics intense applications.
WHY VDI?
When considering VDI, you need to clearly understand what is driving your organization's desire to virtualize. If the reason is strictly to reduce up front hardware costs, you may be setting yourself up for diasappointment. Since power users require a high performance virtual machine, it's not practical to host dozens of users on a single server. Therefore, the price/user for a virtualized solution will typically be higher than a bare metal workstation. So why bother with virtualization? See below...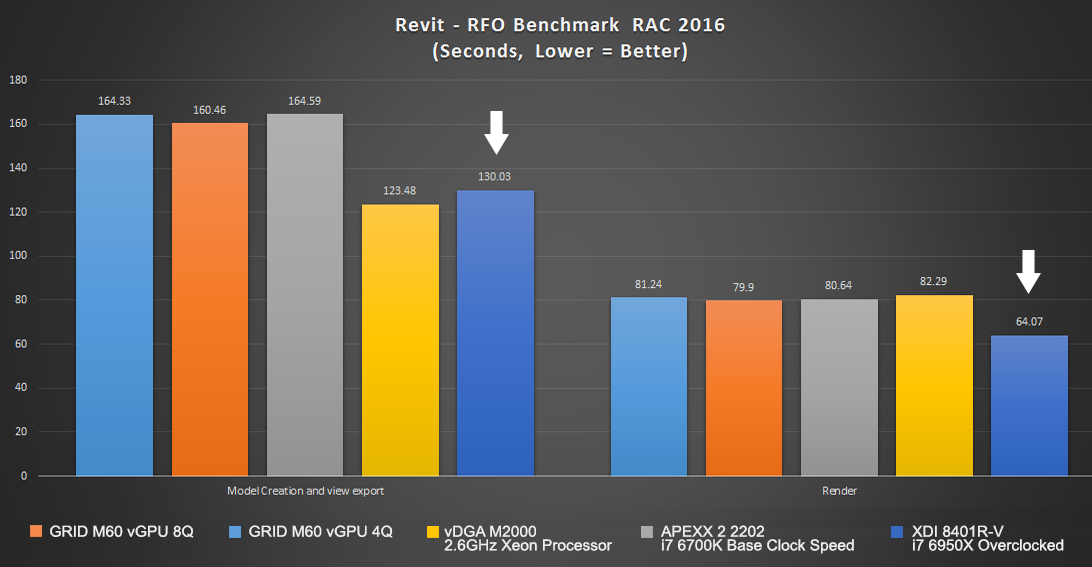 Typical 4-User ProVDI™ Setup
Prices subject to change without notice.
CPU:
10-core Intel® Core™ i7 OVERCLOCKED to 4.2GHz
SSD:
5 x 480GB SSD SATA 6GB/s
RAM:
128GB DDR4-2400 (8 x 16GB DIMMs)
USB:
32GB USB 3.0 Flash Drive
GPU:
4 x NVIDIA® Quadro® M2000 4GB
Chassis:
8-Bay Drive Option
APEXX 5R/S Rackmount Rail Kit
HDD:
RAID 5 Configuration
Adaptec 8885 SATA/SAS 16-port Controller
Support:
BOXX Premium Support (3 years)
U.S. & Canada Only
System Sub Total:
$15,608.00
System Warranty:
$229.00
System Total:
$15,837.00
Operating System:
Microsoft® Windows® 10 Professional 64-bit
4 x $212.85
$851.40
VDA Software:
Microsoft® VDA Software (5-user license) *
1 x $2,096.25
$2,096.25
VMware Software:
VMware Horizon View Advanced (10-user license) **
1 x $4,934.25
$4,934.25
Software Total:
$7,882.00
Total Cost:
$23,719.00
Price per user (Single server)
$5,929.00
Price per user (Two servers) **
$4,696.00
* If your organization has a Microsoft Enterprise Agreement with software insurance, the Microsoft VDA software cost is waived.
** VMware Horizon must be purchased in groups of 10 users. An additional 4-User ProVDI™ server would not incur this cost.

More Than Just Hardware
We Know Your Software, Too!
BOXX Performance Specialists not only know hardware inside and out, they also understand the challenges that come with the advanced software you use in your everyday workflow! Whether you use Autodesk Revit or 3ds Max for modeling, V-Ray or Iray for rendering, SOLIDWORKS for simulation, or any other advanced computing software, one of our experts can walk you through the entire process, answer questions about your specific workflow, and address all those pesky pain points that cost you time and money. Ask anyone — you won't find real software experts with helpful advice at Dell, HP, or Apple.
There are many benefits other than hardware consolidation,
which may be appealing to your organization. These benefits include...
Remote Access
With a virtual workstation, you can access all of your professional applications and assets from anywhere on your organization's LAN using a zero client device. Or, you can access a virtual workstation remotely from anywhere with an internet connection using Teradici's PCoIP® Software Client for worstation use.
Data Security
As mentioned above, VDI allows your users to access digital assets on a central server. Sensitive data never has to leave your server room. Additionally, our implementation features 256 Bit suite B Encryption.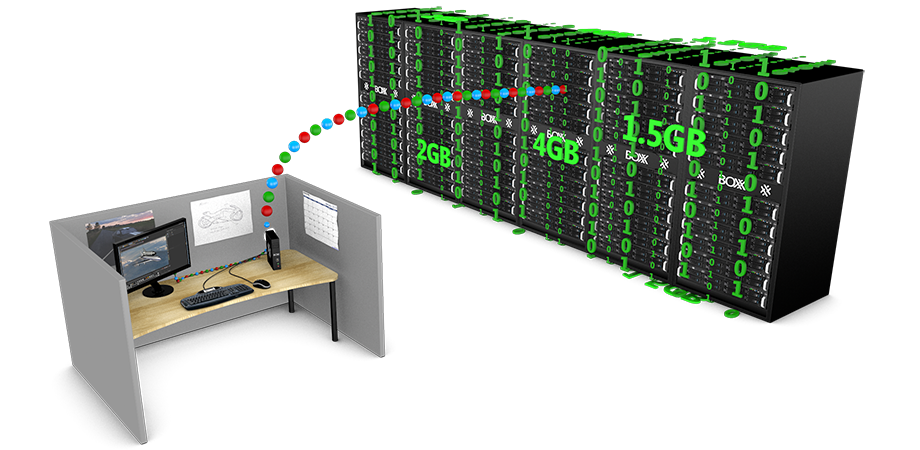 Data Centralization
BOXX customers tend to work with extremely large data sets. Virtual workstations have the added benefit of centralizing these data sets. Remote users don't need to transfer large files from your organization's server to their location, as found with a traditional VPN. Instead, big data remains in your server room and "lightweight" pixels are streamed to the remote user.
Manageability
IT can centralize data and applications in the data center with full control over hardware resources and end user profiles.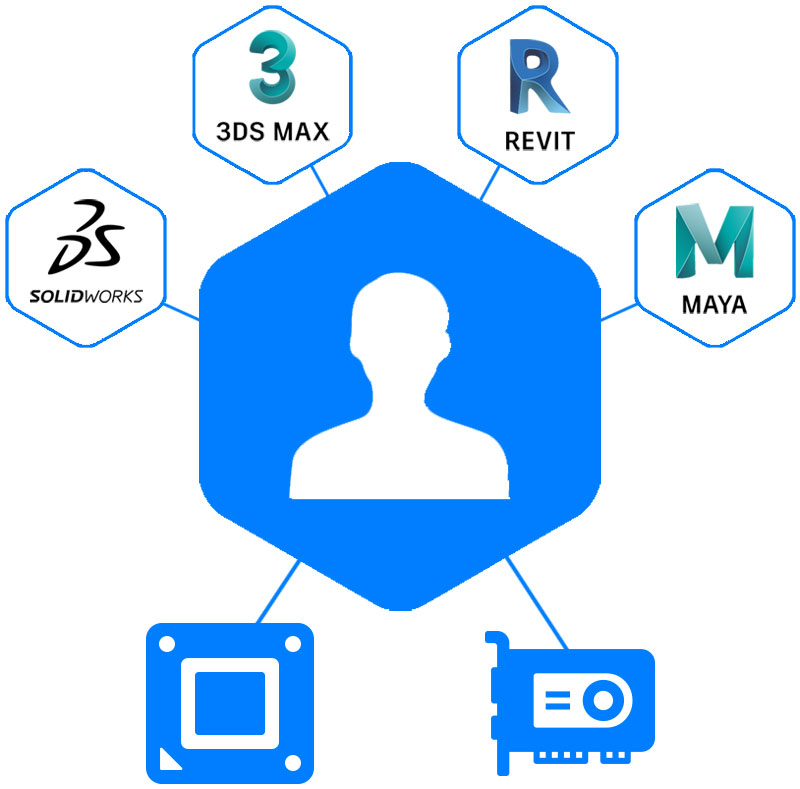 Manufactured
in the USA
At BOXX, we're engineers and creative professionals too. In fact, we rely on SOLIDWORKS, 3ds Max, and other applications every day. Our chassis are designed by BOXX engineers and proudly manufactured in the USA, but they aren't built for sending emails or gaming. They're crafted out of quality aluminum and steel strengthening components. That means maximum airflow and cool, quiet operation—even with the most demanding hardware configurations.
Legendary
Tech Support
At BOXX, we understand that you need to be back working just as soon as possible when something goes wrong. That's why YOUR productivity is always our top priority. Our in-house technical support operatives will attempt to recreate any issues you have in an effort to reproduce even the most obscure problem. We'll even overnight parts when necessary during your premium warranty period.
The BOXX Workflow
Keep working while you render! BOXX offers unique hardware packages specifically designed to reduce the bottlenecks that plague professional software applications. By offloading your rendering, simulation, or other multi-threaded tasks, creativity never has to be put on hold by your hardware. That's the philosophy behind The BOXX Workflow.
What's in the BOXX?
We understand that it's important to know where your money goes when purchasing a premium workstation. BOXX offers services and solutions that go far beyond what you'll find at Dell, HP, or Apple.
What Our Customers Are Saying
—