FOR A LIMITED TIME ONLY!
SPECIAL EDITION 5.0GHz PERFORMANCE FOR CAD, 3D MODELING, AND ANIMATION
SPECIAL POWER & PERFORMANCE
The all-new BOXX APEXX SE is driven by the world's fastest, professionally overclocked Intel Core i7 Limited Edition processor housed in our custom, compact Special Edition metallic blue chassis.

SE is the only workstation on the market to reach 5.0 GHz and maintain that astounding performance across all six CPU cores. Advanced liquid cooling ensures cool, quiet operation and stable performance, while up to three professional GPUs and expansive internal storage potential, make SE the ultimate workstation for CAD, 3D modeling, animation, and more.
EXPLORE THE NEW SPECIAL EDITION WORKSTATION
Hover over the points of interest above and learn more about the new APEXX SE.
APEXX SE: Special Edition
APEXX SE features a professionally overclocked Intel® Core™ i7 Limited Edition processor and up to 3 GPUs for creative software applications. Learn more in this video overview.
5.0 GHZ is More Than a Number
BOXX Systems Engineer Matt Fish discusses the difference between the professionally overclocked APEXX SE workstation and a gaming PC.
WANT THIS SPEED? ACT FAST
Inside a metallic blue chassis, APEXX Special Edition (SE) features a professionally overclocked Intel Core i7-8086K Limited Edition Processor capable of reaching 5.0GHz across all six cores and up to three professional graphics cards, making it ideal for CAD design, 3D modeling, and other creative workflows.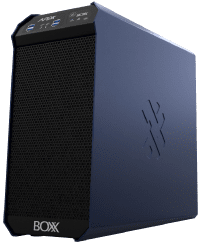 6.84" (17.37cm) W
15.28" (38.81cm) H
17.80" (45.21cm) D
​
6-core Intel® Core™ i7 5.0GHz processor
16GB DDR4-2666 memory
NVIDIA® Quadro™ P2000 5GB graphics
512GB M.2 PCIe SSD
Microsoft® Windows™ 10
* Support of 3 GPUs depends on GPU model. Ask a BOXX performance specialist about max GPU configurations and power constraints.

More Than Just Hardware
We Know Your Software, Too!
BOXX Performance Specialists not only know hardware inside and out, they also understand the challenges that come with the advanced software you use in your everyday workflow! Whether you use Autodesk Revit or 3ds Max for modeling, V-Ray or Iray for rendering, SOLIDWORKS for simulation, or any other advanced computing software, one of our experts can walk you through the entire process, answer questions about your specific workflow, and address all those pesky pain points that cost you time and money. Ask anyone — you won't find real software experts with helpful advice at Dell, HP, or Apple.