Available in four versions (Media Composer First, Media Composer, Media Composer Ultimate, and Media Composer Enterprise) Avid can be used as standalone software, or you can add external I/O devices either from Avid or certain third parties. From 8K RAW editing, PREVIS and VFX modeling, to color correction and grading, to packaging IMF files for final delivery, offline and online editing become one process with the capability to make constant iterations of visual effects modeling and rendering. Designed for individual artists, as well as post production teams, Avid Media Composer enables editors, colorists, VFX artists, and sound designers to collaborate and work simultaneously. In order to maximize Media Composer's latest features, you must select an Avid-qualified workstation suited to your specific workflow.
Avid-Qualified
Avid-qualified BOXX APEXX T-class workstations are equipped with either the 32-core AMD Ryzen Threadripper 3970X or 64-core Threadripper 3990X (64 core) CPU and feature NVIDIA Quadro RTX 5000 and Radeon Pro W5700 GPU options. Read the Avid Configuration Guidelines on APEXX T4 here and note that this Avid certification includes a number of firsts:
• First Avid-qualified BOXX workstation
• First Avid-qualified AMD CPU
• First single CPU with 64-cores
• First (and only) CPU that can edit 8K RAW
Best of all, this unprecedented level of performance will allow you more time to create, analyze, and iterate.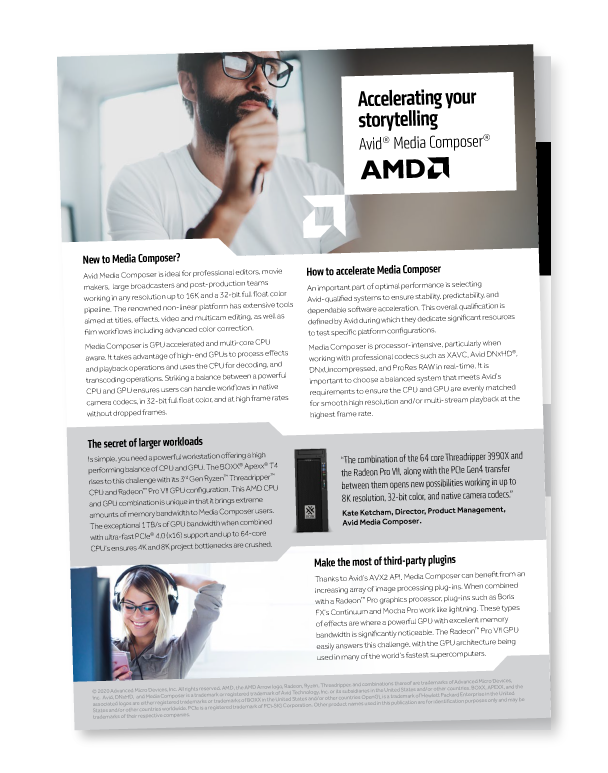 Before you order your next workstation, read our solution brief on "Accelerating your story telling with Avid® Media Composer®"
2K Footage
As a filmmaker or editor, you should configure your Avid Media Composer workstation based on the expected source files, i.e., the resolution, and rendering requirements of your typical projects. Working with 2k footage is still common, but much less demanding than higher resolution projects. A single socket Avid workstation with one or two GPUs is perfect for this type of workflow.
4K Footage
For optimal 4K editing or grading sessions, BOXX recommends a machine with two or more GPUs like our APEXX T4 color grading workstations. Decompression and compression processes make use of your system's CPU, so heavily compressed codecs require an Avid Media Composer workstation with multiple CPU cores in order to finish these tasks in a reasonable amount of time.
8K+ Footage
If you're working with 4k stereo footage or on specialty projects that require interaction with ultra-high 8k resolutions or beyond, then you need a system which offers a variety of advanced configurations—from multiple GPUs and abundant CPU cores, to additional slots for high speed storage.
No products found that match your search criteria
Rendering
Free your Avid workstation by offloading your film or video projects to BOXX dedicated rendering systems—CPU or GPU rendering workstations and rack-mounted systems purpose-built to render the most complex or demanding motion media.
Rendering Solutions
Talk with an Expert
Our performance specialists can help you find the right workstation purpose-built for your applications and workflow.
Contact Us
What's in the Boxx?
It's important to know where your money goes when purchasing a premium workstation computer, so learn about BOXX solutions and services you won't find anywhere else.
See For Yourself
U.S.-based Technical Support
Every BOXX is accompanied by legendary technical support. Based in the U.S., our experts know BOXX hardware AND your software, so if you encounter an issue, we'll get you back to work as soon as possible.
Learn More