Let's get you hooked up. Customize YOUR GoBOXX MXL VR: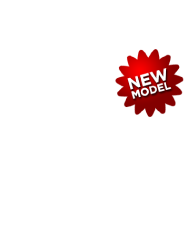 GoBOXX MXL VR
---
Optimized for seamless deployment of incredible VR experiences in entertainment, VFX, product design, and architecture, GoBOXX MXL VR houses a desktop-class 7th generation Intel® Core® i7 processor at a full 4.2GHz, even on the go! And, with up to 64GB of DDR4-2400 memory, this mobile powerhouse makes for an amazing desktop replacement.
---
---
Typically ships in 11 - 13 business days. Please refer to the Ship Date on the emailed receipt upon order completion.
---
Basic Configuration Specs
DESKTOP-CLASS 4-core Intel® Core™ i7 4.2GHz processor
16GB DDR4-2400 memory
NVIDIA® GeForce™ GTX 1070 8GB graphics
512GB M.2 PCIe SSD
Microsoft® Windows™ 10
Detailed Specifications

Supported Processors
7th Generation Intel® Core i7 Processor with Intel® Z170 Express Chipset

Memory
Four Memory Slots Expandable up to 64GB DDR4 2133Mhz

Graphics
NVIDIA® GeForce® GTX 1070 or 1080

Display
17" Full HD (1920x1080) LED

Ports
One USB 3.1 / Thunderbolt 3
Four USB 3.1 Type A Ports
One HDMI Port
Two Mini Display Ports
Line-Out, Line-In, Microphone-In, and S/PDIF-Out
Hard Drives
2 x M.2 PCI-E SSD 256GB or 512GB
Up to two SATA SSD 120GB to 1TB (Mechanical HDD available)

Communication​
Intel 802.11ac Wireless LAN + Bluetooth 4.0
Built-in Gigabit Ethernet LAN 10/100/1000 Mbps
Built-in 2.0M FHD Video Camera

Power Supply
Removable 8 Cell Lithium-Ion Battery
Full Range 300W 100V/240V AC Adapter

Operating System
Microsoft® Windows™ 10 64-bit

Service & Support
Expert support via phone and e-mail M-F, 7AM-6PM CST

MORE THAN JUST HARDWARE.
WE KNOW YOUR SOFTWARE, TOO!
BOXX Performance Specialists not only know hardware inside and out, they also understand the challenges that come with the advanced software you use in your everyday workflow! Whether you use Autodesk Revit or 3ds Max for modeling, V-Ray or Iray for rendering, SOLIDWORKS for simulation, or any other advanced computing software, one of our experts can walk you through the entire process, answer questions about your specific workflow, and address all those pesky pain points that cost you time and money. Ask anyone — you won't find real software experts with helpful advice at Dell, HP, or Apple.

VFX Artist with a Soul
From "Apollo 13" and "Cast Away" to "Doonby" and "Tower", Gary Walker is the independent VFX supervisor who cares more about human stories (and human beings) than CGI science fiction blockbusters on his GoBOXX mobile workstation.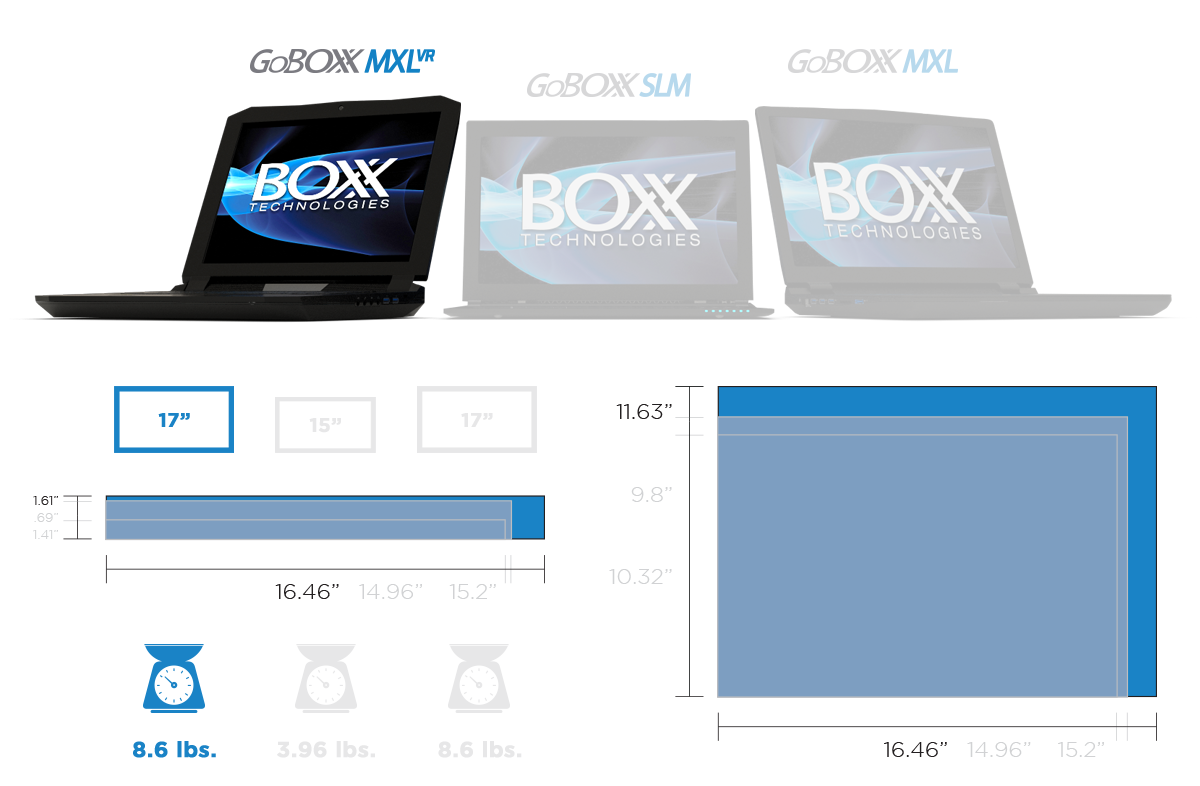 Virtual Reality relies on game engine technology that has traditionally been used in popular video games. High-end graphics capability is essential for a seamless VR experience and frame rates need to be up to 90 fps. That's why the
GoBOXX MXL VR houses the latest NVIDIA

®

GeForce

®

GTX 1070 or 1080!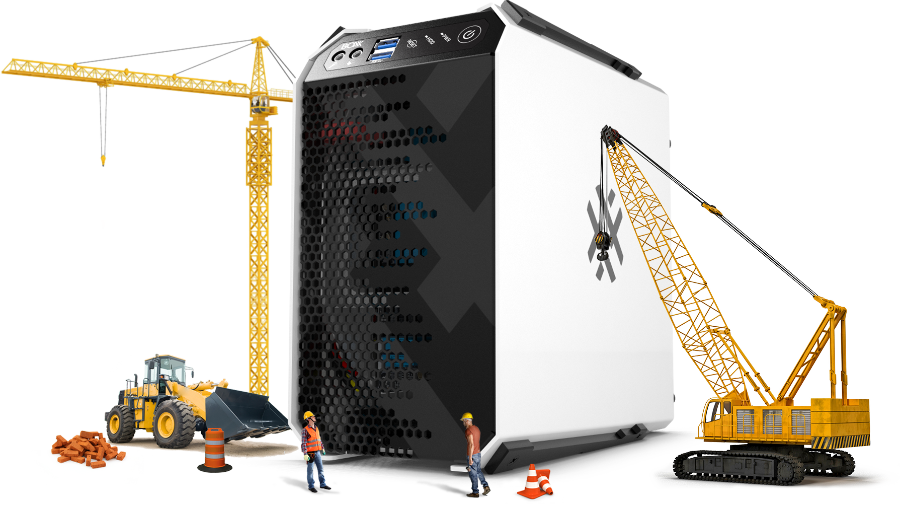 Manufactured
in the USA
At BOXX, we're engineers and creative professionals too. In fact, we rely on SolidWorks, 3Ds Max, and other applications every day. Our chassis are designed by BOXX engineers and proudly manufactured in the USA, but they aren't built for sending emails or gaming. They're crafted out of aircraft quality aluminum and steel strengthening components. That means maximum airflow and cool, quiet operation—even with the most demanding hardware configurations.
Legendary
Tech Support
At BOXX, we understand that you need to be back working just as soon as possible when something goes wrong. That's why YOUR productivity is always our top priority. Our in-house technical support operatives will attempt to recreate any issues you have in an effort to reproduce even the most obscure problem. We'll even overnight parts when necessary during your premium warranty period.
The BOXX Workflow
Keep working while you render! BOXX offers unique hardware packages specifically designed to reduce the bottlenecks that plague professional software applications. By offloading your rendering, simulation, or other multi-threaded tasks, creativity never has to be put on hold by your hardware. That's the philosophy behind The BOXX Workflow.
WHAT'S IN THE BOXX?
We understand that it's important to know where your money goes when purchasing a premium workstation. BOXX offers services and solutions that go far beyond what you'll find at Dell, HP, or Apple.
WHAT OUR CUSTOMERS ARE SAYING...
—