Tired of the Spinning Blue Donut?
APEXX SE Giveaway

Driven by the world's fastest, professionally overclocked Intel® Core™ i7-8086K Limited Edition Processor and housed in a custom, metallic blue chassis, APEXX Special Edition maintains 5.0 GHz across all six CPU cores, making it the ultimate workstation for CAD, 3D modeling, animation, and more.

And now we're giving you the opportunity to win one- FREE!

Just complete the form to access valuable benchmarks revealing the benefits of overclocking and you'll also be automatically entered into the APEXX SE Giveaway.

Register today!

Terms & Conditions:
Complete all required fields on the BOXX registration form to be automatically entered into the drawing.
All entries must be received by December 31, 2018 at 11:59:59 pm CST.
Only U.S. residents 18 years or older are eligible to register and win.
No purchase necessary.
Void where prohibited by law.
Any applicable taxes are the sole responsibility of the prize recipient.
BOXX employees and their household members are not eligible to win.
BOXX Technologies reserves the right to modify the deadline for entries.
Prize is non-transferable and not redeemable for cash.
All rules and regulations are subject to change.
As an architect, engineer, or civil engineer, 3D software applications are essential to your creative business. But even the latest version of Autodesk Revit®, AutoCAD®, Navisworks, ReCap, 3ds Max®, Lumion, Rhino, ArchiCAD, Adobe CS®, Sketch-Up®, or V-Ray can't run effectively on an out-of-date or new-but-inferior workstation.
Bottom line: your choice of hardware is as equally important as your choice of software.
If your reality is a workflow hampered by slow load times, the nightmare of large customer file imports, or that ever-present spinning blue donut, we know your frustration. If you're still hitting that render button on Friday, crossing your fingers to ward off errors and crashes, and hoping that you'll arrive on Monday morning to a completed render ready for client presentation—we know that too.
Unfortunately, your situation is not unique . . . and it's the reason leading architects and engineers throughout the world turn to BOXX. We'll change your reality, replace frustration with acceleration, instability with reliability, and ignorance with expertise.
Let's get started today.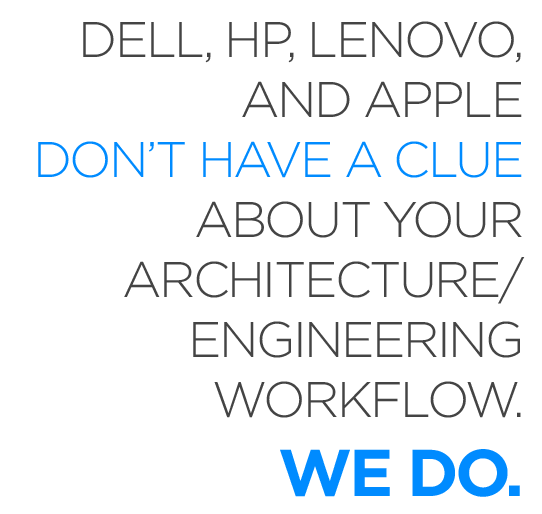 Purpose-Built for AEC Workflows
Work faster than ever before with BOXX custom-configured workstations for Revit, AutoCAD, SketchUp, 3ds Max, Adobe CC, Lumion, Civil 3D, and other professional AEC applications.
Unlike our competitors, BOXX has never produced generic computers loaded with useless bloatware or an overabundance of CPU cores you don't need. Dell, HP, Lenovo, and Apple live by a one-size-fits-all approach, but BOXX understands that AEC software applications are unique—and so is your workflow. That's why we build custom-configured systems specifically designed for peak performance.
THE CHASSIS
In order to save on labor and materials, tier one commodity hardware manufacturers build their chassis overseas, relying on cheap plastic and OEM components. But at BOXX, our systems are "Made in the U.S.A." and that declaration is more than a slogan. In the process of designing our chassis, our expert engineers, like many of our customers, rely on 3D CAD applications, providing our Texas-based metal fabricators with precise models in order to produce the aircraft quality aluminum parts and steel strengthening components which define our state-of-the-art chassis.
The Shootouts: BOXX vs. Dell
The Shootouts: BOXX vs. HP
The Shootouts: BOXX vs. BOXX
"The performance is absolutely jaw-dropping and I couldn't be happier with it."
Philip K. Simon | Virtual Construction Manager | SB Ballard
"There's no need to look beyond BOXX for a state-of-the-art system."
Blue Marble 3D | A subsidiary of Chipman Design Architecture
"The time required to open views dramatically improved. Opening floor plans, 3D views, sections, and more has all drastically reduced the time they needed to wait until the view would regenerate. That was the biggest workflow issue the BOXX solved."
Steve Bennett | CAD Manager | HMC Architects
"Regardless of model size, you can break it down and quickly make changes—BOXX removes the limitations. And in the long run, that means we're saving time, saving money, and hitting deadlines."
Eric Bogenschutz | Former BIM Director | BSA LifeStructures
"Without BOXX, there's no way I could have done all the crunching, all the reloads, all the opening and closing, popping back and forth between two projects, and still make my deadline."
Eric Bogenschutz | Former BIM Director | BSA LifeStructures
Professional Overclocking
Why Overclocking Matters for Your AEC Workflow
Overclocking matters—especially for your AEC software applications. Overclocking allows us to take computer hardware and give it a boost, resulting in significant performance increases. Everything runs faster, re-builds are noticeably faster, and because all processes are accelerated, designing and collaboration become more efficient and productivity increases. Read More
SAFE & RELIABLE
BOXX engineers have designed, built, professionally overclocked, rigorously tested, and shipped overclocked workstations for over a decade. With thousands of those systems employed by architects, engineers, and BIM managers throughout the world, we have not experienced a CPU failure rate any different from that of standard processor systems. There has been no statistical variance whatsoever. This is because we work closely with Intel to absolutely ensure that we stay within the parameters of safe overclocking. BOXX overclocking expertise provides increased performance without applying significantly larger increases in voltage. BOXX is the only workstation manufacturer offering overclocked systems with full Intel® warranties.
Dedicated Rendering for Architecture & Engineering
Whether you're rendering on the GPU or CPU, BOXX rendering solutions have it covered.
LARGE FIRM DEDICATED RENDERING
For GPU rendering engines like Lumion, Unreal, or V-Ray, the fastest solution on the market is the APEXX W8R. Accommodating up to eight professional, dual-width NVIDIA® Quadro™ or AMD® Radeon Pro™ graphics cards, APEXX W8R brings maximum compute density to a single server while drastically accelerating your rendering. Ideal for firms of 20 or more architects, engineers, and designers, APEXX W8R delivers rock-solid reliability backed by legendary BOXX support.
"When we hit render, it was the perfect machine—three times faster than our current systems. I remember when I got a call from our VP saying that if we had not had the BOXX, we would not have been able to render the scene the same day."

Sonny Sultani | CEO | Studio Rendering
". . . it was an instant upgrade to awesome. The same 2000 pixel render now took about five minutes. The 4000 pixel renders were now twenty to thirty minutes. Suddenly, we had the ability to not only fix errors and quickly render, but more importantly, we could leave work and go home at a reasonable hour."

Jared Hopkins | Designer/ 3D Visualization | IDL Worldwide
Expert U.S. Based Customer Sales & Support
Knowledge in what it takes to run AEC applications - you won't find this at our competitors.
Meet BOXX AEC performance specialists Michael Walls & Matt Gubitz.
AEC PERFORMANCE SPECIALISTS
At BOXX, we don't just build workstations, servers, and rendering systems—we solve problems. If you visit our website or call one of our Austin, Texas-based AEC performance specialists, it's because you're facing critical workflow issues and need a solution. Our consultants not only know everything about our hardware, but they also have expert knowledge regarding the professional software applications you rely on and the optimal workflow for your firm. Whether you use Autodesk Revit, SketchUp, Civil 3D, Lumion or any other advanced computing software, one of our AEC experts will consult with you, answer your questions, and recommend the ideal configuration for your specific workflow. They address the pain points that cost you time and money and you won't find real software experts like that at Dell, HP, or Apple. When was the last time you called a toll free number and an actual expert picked up the phone? Call 1.877.877.BOXX.
Legendary BOXX Tech Support ensures you never miss a deadline.
Our competitors really don't have a clue about what it takes to run AEC applications.
If you've ever owned a computer from one of the big-name commodity manufacturers, you know their call center support techs have a script, but not a clue as to what it takes to run Revit, 3ds Max, SketchUp, Lumion, Civil 3D, or other applications.

Our crew is a whole different story.

Meet legendary BOXX Technical Support, the Austin, Texas-based tech wizards who know your hardware, software, and can (in most cases) resolve your issue right over the phone.
Time to Upgrade
With all the new features in today's 3D CAD applications, your outdated computer is simply no match for the overclocked APEXX S3.
ACCELERATE YOUR AEC WORKFLOW AND INCREASE YOUR PRODUCTIVITY
If you're upgrading to the latest version of Revit, AutoCAD, Civil 3D, Lumion, or other architecture & engineering application, your outdated system may not be able to keep pace. BOXX, however, always keeps pace. In fact, from our ultra-compact chassis to the latest Intel processors, from NVIDIA or AMD GPUs to SSDs, there's never been a better time to upgrade to a new BOXX.

Your old machine is no match for our overclocked APEXX S3 workstation, high performance GoBOXX mobiles, or dedicated rendering systems. As is always the case with computer technology, numerous advances have made your outdated system significantly less efficient than a new BOXX. Time is money and an outdated system severely impacts productivity and profits.
They Trust BOXX . . . Shouldn't You?
BOXX is the leading innovator of high-performance workstations, rendering systems, and servers for large architecture & engineering firms, major motion picture studios, television networks, award-winning VFX artists, animators & editors, Fortune 500 retailers, top professional sports leagues, universities, laboratories . . . as well as architects and engineers like you.
These renowned AEC organizations choose BOXX because they can't afford not to. Discover what they and countless other creative pros already know: for professional software applications, the ultimate computer hardware is BOXX.